I had a little cold a few weeks ago - Jim didn't get the cold, he just sneezed a little. .... And, he's been sneezing ever since. I know what allergies are like. I used to have asthma. One year, about 12 years ago, I slept at the office many a night because my asthma was so bad at my house. I never did figure out what that was, but I started on a series of homeopathic allergy treatments that completely cured me. I haven't had asthma for years. I also used to sneeze and sniffle ALL the time. No more. Apparently, now it's Jim's turn. Come to find out that
Austin is known for bad allergies.
And this is the season for Ragweed and Cedar. Jim sounds like he's in the middle of a really bad cold, but cold remedies don't help (neither do allergy remedies). Just another good reason for having a house on wheels! We're not leaving yet, but we know there will be an end in sight.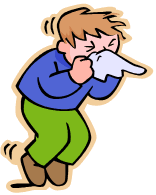 Bless You! or ... maybe he's just allergic to work. y'think?